Doja Dragon
Space Tunnel
DEMO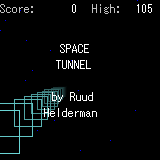 Powered by Java technology

In this game, you have to race across an intergalactic highway. Use the arrow keys to pilot your ship through the long and winding tunnel in space. This will become increasingly difficult as the bends become sharper with each stage cleared. Points are awarded for the distance travelled. Leaving the tunnel means game over!
Soft key 1 or Select key - start game
Soft key 2 - exit
Winner of the Award of Excellence 2006 in the first DoJa Application Contest, organized by the DoJa Developer Network.